International Hospital Federation (IHF)
IHF launched in 1929 is a hospital league of 60 nations of member nations which assign headquarters in Geneva (Switzerland). Japan Hospital Association joins in 1956 and has become a member of a council 1965.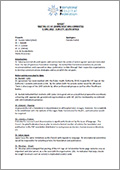 IHF Report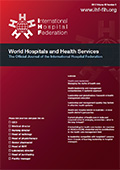 Official Journal

Asian Hospital Federation (AHF)
The Asian Hospital Federation was established in 1971, when the Philippines (Philippine Hospital Association, President Mayu) was elected as its first chair country and exchanges in the Asian region started. Currently, the members of the AHF include 12 countries and regions (Taiwan, Korea, Hong Kong, Mongolia, Malaysia, Philippines, Thailand, Indonesia, India, Australia, New Zealand, and Japan). The federation directors (3 from each country/region) from the Japan Hospital Association (JHA) are Dr. Tsuneo Sakai, President, Dr. Tsuguya Fukui, Chairman, International Committee, and Dr. Shinichiro Tsuchiya, Vice Chairman, International Committee.
AHF Journal
Members list 2011/2013
No.
Country/Association
Name
Designation
Tel/Fax No.
1
Australia
Dr Paul Dugdale
 
 
2
Hong Kong
Dr Su Vui Lo
Dir-Strategy & Planning, Hong Kong Authority
T: 852-2300-7282
F: 852-2194-6893
3
Japan
Dr Tsuneo Sakai
JHA President
T: +81-3265-0077
F: +81-3230-2898
4
Korea
Dr Yoon Soo KIM
KHA President
 
5
Malaysia
Dato' Dr Jacob Thomas
AHF President
APHM President
T: 603-2284-1701
F: 603-2284-2701
6
Philippines
Dr Ruben C Flores
PHA Imm Past President
AHF President Elect
 
7
Taiwan
Mr Han-Chuan Yang
THA President
 
8
India
 
 
 
9
Mongolia
 
 
 
10
New Zealand
 
 
 
11
UAE
 
 
 

Support to WHO
The JHA, together with the Japan Society of Health Information Management, is enhancing the cooperative relations with the ICD Office, Statistics and Information Department, Minister's Secretariat, Ministry of Health, Labour and Welfare, that serves as the contact for the International Classification of Diseases (ICD) developed by the World Health Organization (WHO). The JHA provides support in economic and technological areas such as the updating to ICD-10 and revision of ICD-11 toward 2015 for the proper diffusion and education concerning ICD.